About
Speakeasy Solutions Inc. provides complete speech recognition, digital voice dictation and transcription solutions. We offer products, consultation, setup, training, customization, and support services.
Who We Are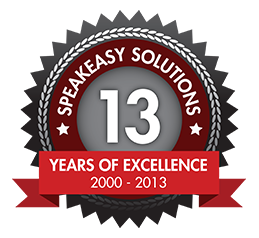 Speakeasy Solutions Inc. is dedicated to providing you with personal, professional, and honest service.  We strive to maintain ongoing relationships with our clients and provide them with expert support and the information they need to maximize their potential.
You will quickly discover how speech recognition (also referred to as voice recognition), and digital voice dictation and transcription enhances your day-to-day operations and increases productivity.
Speakeasy Solutions Inc. continually researches dictation and associated technologies to ensure that you receive current information and valuable assistance on a timely basis.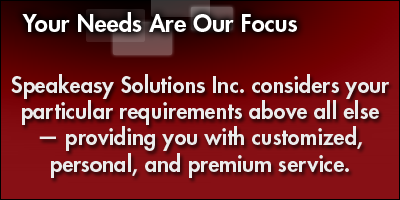 What We Offer
Exceptional Products
Speech recognition software
Digital voice recorders
Digital transcription kits
PC-telephone headsets
A variety of microphone input devices
Outstanding Training
Minimize your learning curve
Maximize your productivity
Enhance your technology skills
Achieve efficiency quickly
Dragon-certified trainers and expert users of assistive technologies
Superior Service
Consulting & assessments
Complete installation and setup
Solution customization & integration with other applications (i.e. EMRs)
Ongoing support for all solutions
Olympus Pro Audio Dealer and a Philips Master Digital Centre
Value Added Reseller (VAR) & solution provider for Nuance's Dragon NaturallySpeaking and Dragon® Medical products
Custom Solutions:
Individual products (Dragon speech recognition software, microphones, digital voice recorders & transcribers)
Individual services (consultation, installation, configuration, customization, integration, training and support) — for those in need of specific services at any time
À la carte packages (products plus select services such as installation, configuration and/or training) — for those who desire a little assistance
Complete package solutions (products, installation, complete training, and value added) — perfect for those wishing independence, peace of mind and considerable support
Our Clients
Our clients range considerably, and span Canada from coast to coast (although our main focus is British Columbia).  They include:
Physicians (general practitioners and medical specialists such as neurologists, cardiologists, ophthalmologists and more)
Lawyers (individuals to large firms)
Insurance Adjusters and Inspectors
WorkSafeBC (their employees as well as their clients)
Construction Managers
Professors and Educators
Public School through University Students
Insurance Companies (their clients, in return to work scenarios)
Various Ministry and Government Offices
Business Owners and Managers
Writers
and more
Our History
In the late 1990s the future founders of Speakeasy Solutions Inc. were stricken with upper limb chronic repetitive stress injuries, placing their occupations on hold. Their careers spanning the fields of administration, IT/IS and law, as well as a life-long natural affinity for technology, paved the way towards the formation of a new and highly specialized vocation: speech recognition and digital voice dictation providers.
At the time, Dragon NaturallySpeaking was in its infancy (version 3 had just been released) and the first professional digital voice recorders were entering the market. A few companies in North America were offering these products and fewer still providing accompanying services.
Speakeasy Solutions Inc. was formed in 2000 with a sincere desire in providing quality dictation solutions to professionals and those with physical limitations. Speakeasy Solutions Inc.'s founding principles were:
Offer honest advice with the client's best interests in mind
Provide excellent service that exceeds industry standards
Continually improve product and service offerings through ceaseless research in order to provide clients with "the best" products, support and service possible
These are Speakeasy Solutions Inc.'s core values, and they always will be.