A bothersome bug has been in place with Dragon Medical Practice Edition for a couple of years now. Even with the latest Dragon Medical Practice Edition 4.3 release, this bug has not been fixed.
According to the End-User License Agreement a licensed user is permitted to install/activate Dragon on up to 4 computers. For physicians this is very important as they typically use more than 1 computer, particularly if they have multiple exam rooms in their office.
The Bug
In times past uninstalling Dragon and/or using the Dragon remover tool would deactivate Dragon on that computer freeing up and installation on another computer. This has not been the case for a couple of years.
This is very frustrating for honest users who rotate new computers into their offices. Speakeasy Solutions has noticed this has become more prevalent of late with the discontinuation of Microsoft support for all non-Windows 10 operating system machines, prompting those with older computers to upgrade to new computers along with Windows 10.
The Fix
Continue to uninstall and/or use the Dragon remover tool (preferably the Windows "add or remove programs" feature first and then the Dragon remover tool).
Follow this up by removing Dragon's activation from the computer's registry. Please note that this should not be done by those who have any concerns with their technical computer knowledge. Contact your IT support if need be. Speakeasy Solutions assumes no responsibility for using this information to alter your computer's registry. That said, see the following:
Press the [Windows key] + [S] to open the computer's Search.
Type

registry

into the search bar. The Registry Editor app becomes available. Click this.
If your User Account Control asks if you want to make changes to your computer, click Yes.
Go the following path: Computer\HKEY_LOCAL_MACHINE\SOFTWARE\WOW6432Node\ScanSoft\NaturallySpeaking15\Activation
Click the Activation folder, right click and Delete.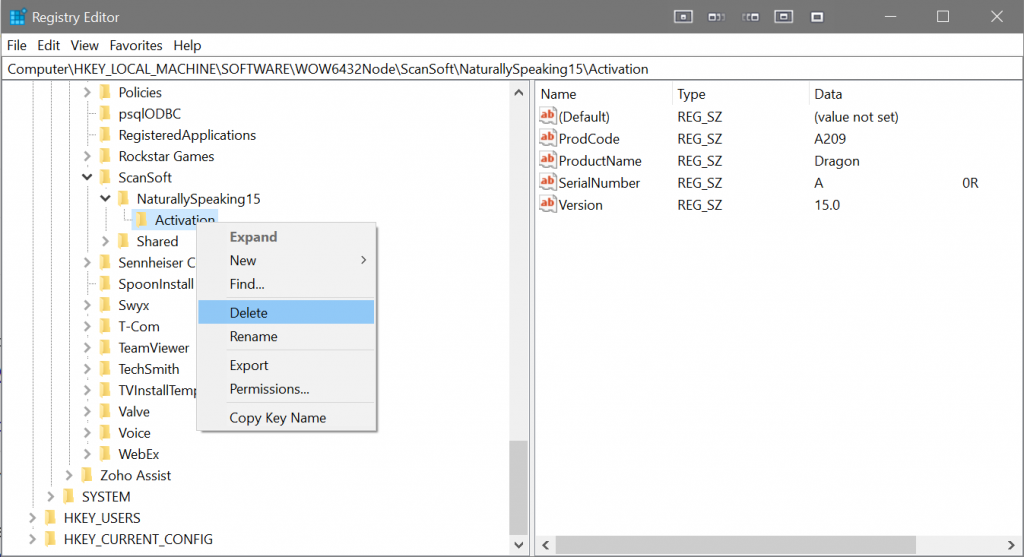 You have now deregistered Dragon so that you may install on another computer.