Philips Dictation & Transcription Solutions
Professional Philips Dictation Products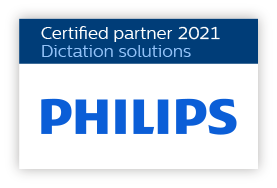 Philips professional dictation products are distributed via Master Digital Center specialists such as Speakeasy Solutions.
We provide you with expert consultation, implementation, and support, no matter where you reside in Canada.
As always, never hesitate to contact us for assistance in choosing the right dictation solution for you.

Dictation
The DMP8000 Pocket Memo and PSP2000 SpeechAir digital voice recorders are the latest models from Philips.
The best audio quality, robust hardware design, with options to suit your needs.

Transcription
The ACC2300 series digital foot controls are the latest transcriber models from Philips.
Configurable pedal functions and ergonomic design; the ACC2330 is also waterproof.
Learn about Other Philips' Professional Dictation Products
Digital Voice Recorders and their accessories.
Digital Transcribers and their accessories.
Software Solutions.