Training Materials/Guides for Dragon Medical & Professional
Professionally Created Training Materials
Speakeasy Solutions creates its own detailed resource guides based on many years of experience working with physicians and legal practitioners. Materials are meticulously revised based on user feedback and product updates.
Training Workbooks for Dragon® Professional are very comprehensive, including numerous screen captures and detailed information for maximizing the use of Dragon in a professional environment.
Guides for Philips' SpeechMike microphones include Speakeasy Solutions' customized configuration files in addition to utilizing the SpeechMike specifically for Dragon.
The Olympus ODMS transcription and dictation modules are enhanced by a training guide with respect to combining Olympus' Digital dictation technology with Dragon.
During Training Sessions
The Dragon Training Workbooks and the Olympus ODMS Guides are essential components for some of our training sessions. As such, these materials are not available without an accompanying training session.

As Resource Guides
The Dragon & ODMS Training Workbooks become valuable resource materials after training. Additionally, the guides for Philips' SpeechMike microphones are useful when setting up your handheld microphone with Dragon.
About the Training Materials
Speakeasy Solutions creates their own training materials for use with their clients. As a result of working with medical and legal professionals, as well as those with physical limitations, government, and corporate individuals since the year 2000, Speakeasy Solutions understands the need for productivity in the workplace.
We teach the quickest and most efficient methods for utilizing dictation technologies in your everyday workflow. Our adaptive training method ensures that you receive a personalized experience dependent upon your preferences and needs. We focus on knowledge enhancing your experience with speech recognition technology.
Afterwards, the training materials become a resource for you to refer to whenever needed.
Availability of the Dragon & Olympus ODMS Training Materials
The Dragon & Olympus ODMS training materials are not intended to replace learning from a professional Dragon trainer, but are used during Speakeasy Solutions' training sessions in order to augment the sessions and reinforce the material covered.
Speakeasy Solutions' Dragon & Olympus ODMS training materials are available to clients of Speakeasy Solutions who:
Receive a Complete Speech Recognition Solution (Dragon, plus a microphone or digital voice recorder, plus installation, plus 6 hours of Complete Training),
Receives 6 hours of Complete Dragon Training, or
Receive a Complete Upgrade Package (Dragon Upgrade, plus installation, plus 2 hours of Upgrade Training).
Dragon Medical & Dragon Professional Training Materials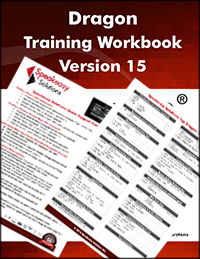 The intended audience are those who wish to maximize the use of Dragon for the purpose of increasing productivity in their day-to-day computer use.
Dragon provides many methods and commands to perform the same functions; some of these methods are far more efficient than others, and these are explained throughout the Dragon Training Workbook.
Moreover, the Dragon Training Workbook offers advice and workarounds for some of Dragon's less than effective features, as well as addresses the myriad challenges new users often face.
As always, the Dragon Training Workbook's content is based on using Dragon realistically – as opposed to an idealized perspective inflated by marketing hype.
Dragon Training Workbook Version 15 for Dragon® Professional 15
This 300 page Training Workbook is a comprehensive guide for those using Dragon® Professional 15.
Contents
The Training Workbook provides numerous sample exercises, examples, reference sheets, and approximately 400 screen captures.
Throughout the volume are easy to spot graphical icons indicating:
what is new for version 15,
a top command,
a key concept,
cautionary information,
accessibility/hands-free use, and
features best not used at all.
Each section is prefaced with a Command Summary specific to the features and commands discussed throughout this section. A graphical icon indicates the top commands within the summary.

The final sections of the Training Workbook contains Reference Sheets with respect to:
Dragon commands (global, and application-specific),
troubleshooting,
additional tips & tricks, and
program specific command sheets (i.e. Microsoft Office, Web Applications etc.).
Reference Card Also Included
An amalgam of the Training Workbook's Dragon Top Commands & Key Support Concepts, this sturdy Reference Card is ideal to keep at your side when you were first learning Dragon or as a refresher, when needed.
One side of the Reference Card provides the most effective Dragon voice commands for editing, correcting, and computer control. The other side of the Reference Card is a support guide for contending with diminished recognition accuracy, adding phrases, creating text shortcut commands, and the very important sequence of steps for resolving Dragon misrecognitions.
The Reference Card places the culmination of the entire Training Workbook at your fingertips.
Olympus Dictation & Transcription Modules with Dragon Training Materials
The ODMS software integrates tightly with Dragon.  This refined integration improves workflow enormously over its previous versions, automating Dragon's transcription process under a variety of scenarios (i.e. multiple authors and multiple transcriptionists, single author, single transcriptionist, and so on).  Transcribing dictation has never been so quick or efficient.
This workbook serves as a training and resource guide for those whose dictation solutions are purchased from and configured by Speakeasy Solutions.  The workbook outlines some of the most efficient dictation and transcription workflows for medical, legal, and professional practitioners, and their assistants.
Olympus Dictation Management System & Dragon Training Workbook
This 60 page Training Workbook is a comprehensive guide for using the Olympus ODMS (Olympus Dictation Management System) and Dragon® Medical Practice Edition or Dragon® Professional.
Contents
The Training Workbook provides over 200, easy to follow, screen captures, with instructions on both ODMS and Dragon configuration and use.
Topics include:
establishing a Dragon user profile,
configuring and using the ODMS Dictation Module,
configuring and using the ODMS Transcription Module,
using the ODMS vocabulary and acoustic adaptation process effectively,
ODMS tips,
refining Dragon's vocabulary for increasing accuracy, and
backing up a Dragon user profile.
Philips SpeechMike Training Materials
Accompanying the Philips SpeechMike handheld microphones is the Philips Device Control Centre application.  The Philips Device Control Centre enables you to customize the buttons of your SpeechMike to perform various tasks (open a template, send a sequence of keystrokes, control Dragon, and more).  Beyond customizing the buttons, the SpeechMike can be further configured with a variety of other functions.
Customizing the behaviour of the Philips SpeechMike allows for greater efficiencies in your workflow when using Dragon.
Using the Philips SpeechMike Premium (Touch & Trackball) with Dragon
This 44 page Resource Guide provides an overview of the Philips SpeechMike Premium's device settings, along with the new features (pick and drop, microphone motion control, and scroll wheel function). This booklet is free with the purchase of a Philips SpeechMike Premium from Speakeasy Solutions.
Application controls are covered in more detail, outlining how to assign buttons, along with a detailed description of the Dragon commands possible.
Examples are also provided for the most commonly assigned functions (i.e. opening a file, creating a new document based on a Microsoft Word template etc.).
Tips for using the Philips SpeechMike Premium with an EMR/EHR (electronic medical/health record application) and some troubleshooting notes are also provided.
Contents
The Resource Guide provides over 30, easy to follow, screen captures, with instructions on Philips SpeechMike Premium configuration.
Topics include:
basic & advanced device settings,
exporting & uploading settings,
assigning functionality to buttons,
Dragon command functionality,
suggested optimal settings,
tips for use with electronic medical record applications, and
troubleshooting tips.
Speakeasy Solutions Optimal Configuration Settings
For clients who receive a complete speech recognition solution package (Dragon, SpeechMike, installation, and training), Speakeasy Solutions provides and sets up an optimal configuration file for the SpeechMike (based on clients' most desired configuration).
Clients who purchase their Philips SpeechMike Premium from Speakeasy Solutions receive:
the 44 page booklet
the optimal configuration files
optimal and blank configuration settings cheat sheet
Philips SpeechMike Premium Blank Configuration
Use this convenient PDF to record your custom device configuration settings.
Learn More about Speakeasy Solutions' Value Added

Speakeasy Solutions offers useful additional items and services, designed to minimize your learning curve and boost adoption with Dragon. After sale and implementation assistance is paramount for continued and effective use of your Dragon solution.