Dragon Medical One for PC
Dragon Medical One Speech Recognition Software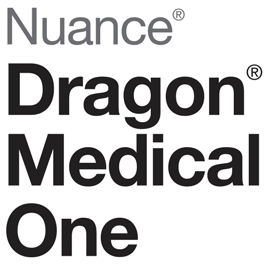 Cloud‑based speech recognition solution that provides a consistent and personalized clinical documentation experience across PC devices or by remotely accessing your PC desktop regardless of physical location (even outside of Canada, if needed). Allows clinicians to use their voice to securely capture the patient story more naturally and efficiently—anywhere, anytime.
Nuance Dragon Medical One is a secure, Canadian cloud—based speech platform for physicians and other clinicians to securely document complete patient care in the EMR.

Work Anywhere
As long as you have an Internet connection, Dragon Medical One is available to you either on your PC itself or via a Remote Desktop Viewer.

Continuous Updates
Dragon Medical One is continually updated, and therefore improved, with respect to terminology, accent handling, language model, and more.

Technologically Efficient
Dragon Medical One is a very small app, requiring average computer PC specifications. Your smart phone also doubles as a microphone.
Benefits
Create user profiles instantly:
Clinicians can create a profile easily and be documenting in minutes. Cloud based, this single voice profile means clinicians are up and running immediately across multiple PC devices or Virtual Desktop scenarios.
Easy installation*: 
After initial setup and integration, installation is easy and in just minutes you will be creating patient notes.
*Thin clients may require additional implementation and costs.
Key Features 
Automatic accent detection:
Instantly detects your regional accent for more precise documentation.
No per-device limits:
Clinicians can stay productive while using their Windows-based device and focus on the unique patient story rather than usage limits.

Purchase Dragon® Medical One
Dragon Medical One
For Dragon Medical One, order online via the link(s) listed below or ask us to send you a pre-populated order for checkout.
The Implementation Package ($578) is required for each new user license. This Implementation Package is two hours in length, including backend configuration, installing DMO on one computer per user, instruction on performing the implementation on additional computers yourself (if desired), and an overview of dictating with your EMR.
Technical support is included with the purchase throughout your subscription.
Monthly Subscription (per user):
Prepaid Annual Subscription (per user)
Additional Dragon Medical One Services
An Advanced Dragon Medical One Training Session is optional:
A customized single two-hour session covers (but is not limited to) any of the following topics:
refining your workflow in your EMR,
speed editing & correcting,
leveraging vocabulary for accuracy, and
custom command creation for productivity.
Popular Microphones for Physicians using Dragon Medical One
If none of the microphones listed are of interest, view all of our available microphones.
Product Sales Information 
How Dragon Medical One Lets Doctors Be Doctors
Informational News 
The following web sites and web pages offer additional articles related to Dragon Medical One in Canada.
Speakeasy Solutions Blog Posts 
The following blog posts outline information pertaining to Dragon Medical One.
Receive a Trial of Dragon Medical One
Schedule a free one week trial of Dragon Medical One.
When booking the appointment, choose as follows:
Category — Pre-Sales Consultation
Service — Dragon Medical One Trial | no charge (30 minutes) REMOTE
Learn about Other Dragon Medical Products
Product Support 
What kind of support does Speakeasy Solutions provide?
Technical support involves problems with hardware (microphones and digital dictation equipment) and software (Dragon and hardware with applications). This includes manufacturing defects, complications with other equipment or software, inoperability, and quite simply a product not functioning as it should.
Training support involves how-to accomplish a task with hardware and software. This includes resolving Dragon recognition errors, maintenance, creating commands, performing a specific function, and so on.
The section below is specific to technical support. Training support is conducted during a training session, booked online, or contacting us directly.

Free vs Paid: 
You may be eligible for free support from Speakeasy Solutions.
Quick Tips: A brief list of possible remedies for basic issues.
Blog Articles: Links to blog articles contending with various support challenges.
Guides: Product resource guides and manuals from the manufacturer.
Did you purchase Dragon Medical One from Speakeasy Solutions?
NO — If the information on our website does not assist you, consider contracting Speakeasy Solutions for a remote technical support session.
YES — Technical Support is included! Review the information provided here, or contact us for complimentary technical support!
Depending on the symptoms, consider any of the following possible remedies as is relevant.
Computer
Shut down all applications and restart the computer.
Check for Windows OS and Microsoft Office updates. If any, apply, and restart computer.
Check for browser and antivirus updates; apply if needed.
Check for Dragon updates; apply if available.
Is your computer set to sleep after a period of time? If so, set it to never sleep.
Temporarily disable your antivirus to rule out conflicts.
Audio
Ensure your computer recognizes your microphone.
Ensure your microphone is fully connected and plugged into the computer.
Turn off your computer, plug your microphone into a different USB port, and turn on computer.
if your microphone has software, such as the Philips SpeechMike, check for and apply any software and firmware updates.
With your Dragon User Profile open, choose your desired microphone and then run a microphone check.
Dragon
Verify your Dragon User Profile is open, and if not, open it.
Are you connected to the Internet? Open a web browser and load a web page.
DO NOT!
Depending on the issues of concern, one (or more) of the following blog articles may provide a solution.
Computer
Audio
Dragon Medical One (DMO)