Philips SpeechMike Premium Air Wireless SMP4000
Efficient for numerous brief bursts of dictation or those who do not wish wear a headset, and also work wirelessly.
The SpeechMike offers programmable buttons for controlling Dragon and your computer.
The Philips SpeechMike wireless handheld is the most popular wireless handheld among medical practitioners.
Product Details
The Philips SpeechMike Premium Air (SMP4000/4010) has reached its highest stage of evolution. Benefit from all advantages of the industry leading dictation microphone, without the constraints of a cable. Record your voice using a premium decoupled studio-quality microphone with a built-in noise reduction filter and achieve exceptional speech recognition results. Thanks to the revolutionary patented lossless speech technology, the SpeechMike Premium Air offers maximum mobility without any compromises. The device achieves the same high speech recognition performance as the standard SpeechMike Premium with a cable.
Benefits  & Key Features 
The SpeechMike Premium Air comes with a studio-quality microphone and a built-in triple layer noise reduction filter for clearest recordings and most accurate speech recognition results.
The free-floating microphone is decoupled from the device's housing, which guarantees that almost no background, touch, click, air or structure-borne noise is recorded.
The SpeechMike Premium Air comes with an integrated motion sensor, meaning it can be controlled by the movement of your hand. It detects when it's put on the table, mutes the microphone, and once it is being picked up again it unmutes the microphone.
Uncompressed wireless recording enables free movement and pacing whilst working. You can easily move up to 5 meters or 16 feet away from your workstation and your recordings are safely transmitted to your computer in highest quality, without any interruptions. The cutting edge technology ensures every word is captured from the moment you press record.
The stable and innovative docking station provides wireless high-speed charging and easy pairing between your device and the docking station. Users can be flexible and work with various docking stations in different places. With an optional foot control connected, the docking station enables hands-free recording.
You can freely configure the buttons on your device or use the pre-installed Secured Dragon Mode. This mode pre-configures the buttons, optimizing them for use with Dragon speech recognition software. It requires no additional driver installation, making set up easy, even in virtual environments.
The SpeechMike Premium Air comes with slide-switch (SMP4010) or, the more popular, push-button operation (SMP4000).
OS , Software , & Hardware 
Operating System
PC: Windows 10 (64 bit), Windows 8.1/7 (32/64 bit), Windows Server 2012 (64 bit), Windows Server 2008 R2 (32/64 bit)
MAC: macOS 10.13/10.12. IMPORTANT NOTE — Dragon Mac products have been discontinued and are no longer supported.
Dragon Speech Recognition Support
Dragon Professional: 12.5/13/14/15 Individual/Group
Dragon Legal: 12.5/13/14/15
Dragon Medical Practice Edition: 2/3/4
Hardware Compatibility
Philips SpeechMike Air Docking Station ACC4000
Box Contents 
SpeechMike Premium Air Wireless Dictation Microphone
Docking station ACC4000
Power supply with international adapters: US, UK, Europe, Asia Pacific
2 USB cables
Quick start guide
Product Information 
Using the Philips SpeechMike Premium Air with Dragon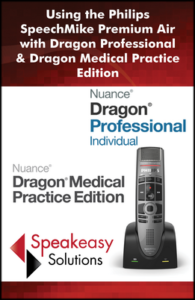 This 44 page Resource Guide provides an overview of the Philips SpeechMike Premium Air's device settings. This booklet is free with the purchase of a Philips SpeechMike Air from Speakeasy Solutions.
Application controls are covered in more detail, outlining how to assign buttons, along with a detailed description of the Dragon commands possible.
Examples are also provided for the most commonly assigned functions (i.e. opening a file, creating a new document based on a Microsoft Word template etc.).
Tips for using the Philips SpeechMike Air with an EMR (electronic medical record application) and some troubleshooting notes are also provided.
Contents
The Support Guide provides over 30, easy to follow, screen captures, with instructions regarding the Philips SpeechMike Premium Air's configuration.
Topics include:
basic & advanced device settings,
exporting & uploading settings,
assigning functionality to buttons,
Dragon command functionality,
suggested optimal settings,
tips for use with electronic medical record applications, and
troubleshooting tips.
Speakeasy Solutions Optimal Configuration Settings
You will also receive an optimal configuration file for the SpeechMike (based on clients' most desired configuration). Use this as is or as a starting point for your own custom configuration.
Philips SpeechMike Premium Blank Configuration
Use this convenient PDF to record your custom device configuration settings.
Additional information
| | |
| --- | --- |
| Weight | .79 kg |
| Dimensions | 22.5 × 20 × 8 cm |