Dragon® Professional Individual 15 Francais (French) for PC
Dragon® Professional Individual French (15) Overview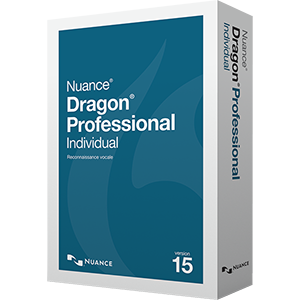 Avec le tout nouveau Dragon Professional Individual 15, mettez votre voix au travail pour créer tous vos documents (rapports, e-mails, formulaires et bien plus encore) à une vitesse inédite.
Grâce à son moteur de nouvelle génération exploitant la puissance du Deep Learning, dictez et obtenez des transcriptions toujours plus précises et rapides, gagnez du temps et consacrez-vous pleinement à des activités génératrices de revenus.
Voir Dragon en action
Laissez Dragon travailler à votre place
Comme de nombreux professionnels, vous devez produire un volume considérable de documents chaque jour. Découvrez comment Dragon Professional Individual peut vous aider à créer tous vos documents plus rapidement et avec précision, au bureau ou en déplacement, de sorte que vous puissiez vous consacrer à des activités rémunératrices !
La puissance du Deep Learning
Création documentaire rapide et précise
Grâce à son moteur de reconnaissance de nouvelle génération couplé à une technologie de Deep Learning d'avant-garde, Dragon est encore plus précis et s'adapte en continu à votre voix et à votre environnement, même lorsque vous dictez. Créez vos documents avec précision et bouclez toutes vos tâches en un temps record sur votre ordinateur
rien qu'avec votre voix.
Dragon mémorise les mots et les phrases que vous utilisez le plus souvent pour limiter les besoins de correction.
Optimisé pour la reconnaissance d'accents régionaux et une utilisation en environnements modérément bruyants, comme en open space.
Des règles de formatage intelligent mémorisent vos préférences de mise en forme (abréviations, dates, numéros de téléphone, etc.).
Appliquez des mises en forme (gras, souligné, etc.) rien qu'en parlant
Compatible avec de très nombreuses applications professionnelles.
Personnalisation avancée
Gagnez en efficacité en personnalisant le programme
Dites « Insérer signature » pour que Dragon insère automatiquement vos coordonnées complètes, ou dictez des termes spécifiques à votre activité sans que cela ne pose le moindre problème à Dragon ! Avec ses fonctionnalités de personnalisation avancées, comme la création de commandes vocales et l'ajout de mots à votre vocabulaire personnel, Dragon Professional Individual s'adapte à vos méthodes de travail pour décupler votre productivité.
Importez et exportez des listes de mots personnalisées contenant des termes et des expressions spécifiques à votre activité.
Créez des commandes vocales pour l'insertion de textes et de graphiques standard.
Créez vos propres macros vocales pour gagner du temps en automatisant des tâches courantes ou des processus métier complexes.
English Regions Available For:
English Accents Available For:
Standard North American
Australian
British
Indian
Pakistani
Southeast Asian
Spanish

Purchase Dragon® Professional Individual French
Dragon® Professional Individual French Software
Speakeasy Solutions Services (installation and/or training)
A Complete Solution includes Dragon Installation with Support (installation including 2 years of remote technical support) and Complete Training with Training Materials (3 two-hour training sessions).
An À La Carte Solution optionally includes Hourly Installation and/or a Single Training Session.
Learn more about Speakeasy Solutions' purchasing options for Dragon.
Popular Microphones for Professionals
If none of the microphones listed are of interest, view all of our available microphones.
Product Sales Information 
Learn about Other Dragon Professional Products