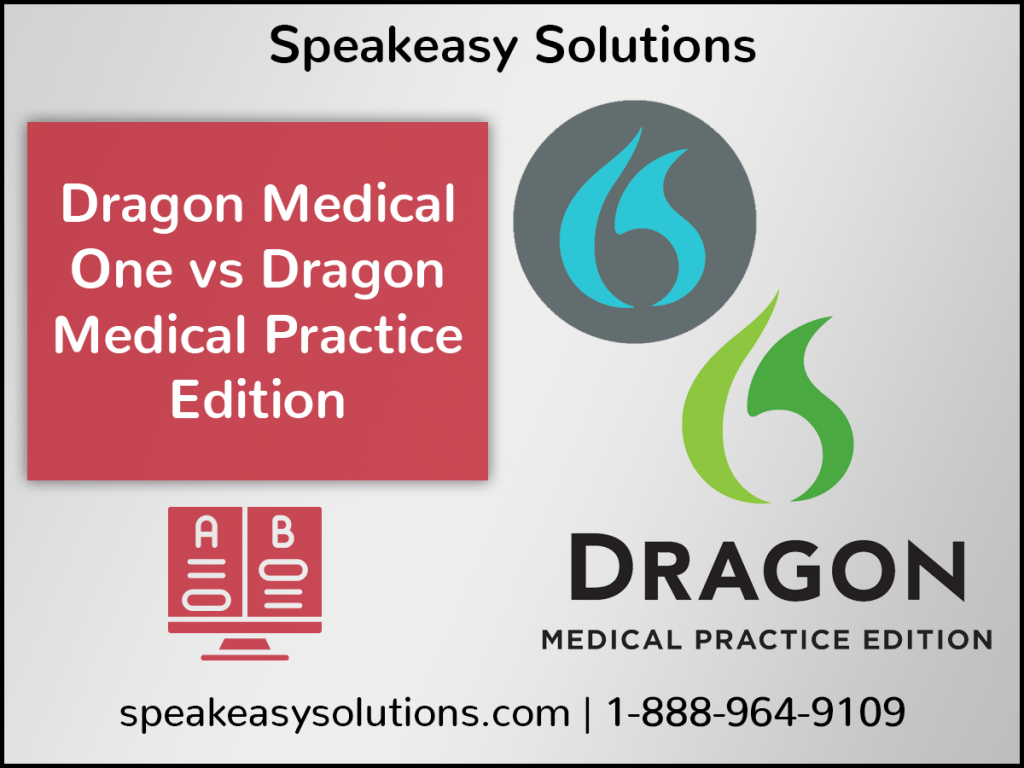 What is the difference between Dragon Medical One (DMO) and Dragon Medical Practice Edition (DMPE)?
DMO is a subscription cloud-based service, and has been available in Canada for just over a year. DMO is currently English only.
DMPE is a locally managed application; its current version is 4 (DMPE 4), and has been available since January 2018. DMPE is available in French and English.
Both DMO and DMPE are software applications that will only run on a full Windows Operating System.
What are the feature differences between Dragon Medical One (DMO) and Dragon Medical Practice Edition (DMPE)?
Feature
DMO
DMPE
LICENSING
Purchase options
Subscription, 1 year agreement.
Outright purchase.
License availability
Single user.
Single user.
Installations / activations permissible
Unlimited.
Up to 4 computer activations concurrently.
TECHNICAL
Technical requirements
Any reasonable Windows PC with Internet access.
High requirements for best success.
Internet requirements
Internet access required for use.
Internet access required only for activation.
Mac computer use
Use Mac to remote view a Windows PC with DMO installed and using smart phone's microphone.
or
Run Boot Camp or Parallels Windows OS on Mac computer.
Run Boot Camp or Parallels Windows OS on Mac computer.
Remote / virtual environment
Several options to accomplish fairly easily.
A couple of options, some more finicky than others.
Application size & location
100 to 250 MB on each computer.
4 GB (with user profile).
Installation time
Depending on Internet speed, 5-10 minutes.
Depending on computer speed, 20-45 minutes.
Microphone input
Local microphone and/or Smartphone.
Local microphone.
BACKEND
Dragon user profile location
Cloud server.
Local or networked computer.
Backups
Automatically performed on cloud.
Local machine, managed by user or IT staff.
Synchronization of user profile across multiple computers
Yes, all computers.
Only networked computers using Dragon roaming user profile feature.
Updates
Ongoing and continuous.
Infrequent.
Upgrades
Ongoing with subscription.
For purchase; new user profile creation suggested for best use.
FEATURES
Accuracy
High accuracy and automatic accent detection.
Good accuracy.
Teaching Dragon (1)
Correction, training, and vocabulary word modification.
Correction, training, vocabulary word modification, and writing style optimization.
Editing text (2)
Multiple most useful voice commands available.
Numerous voice commands available.
Custom command types (3)
Text, Advanced Step by Step.
Text, Step by Step, and Advanced Scripting.
Built-in commands (4)
The most used and necessary.
Numerous, including Microsoft Office.
Vocabularies (5)
Approximately 10, dynamic, continuously updated and refined.
Approximately 90, static until new version.
Vocabulary refining
Yes.
Yes.
Browser compatibility
Internet Explorer and Google Chrome.
Internet Explorer and Google Chrome.
Transcription from digital voice recordings.
No.
Yes.
Save voice dictation in MS Word or DragonPad documents with a microphone for the purpose of assistant proofreading.
No.
Yes.
(1) If accustomed to DMPE, a slightly different process is used in DMO for correction.
DMO is more accurate than DMPE so there will be fewer corrections. For particularly problematic word(s), both DMO and DMPE may struggle and further vocabulary refining is necessary.
(2) The editing command set for DMO and DMPE are almost exactly the same. The most notable absence in DMO is the "delete (word(s))" command. In order to delete words in DMO select the word(s) in question and issue the "delete that" command followed by the "go back" command.
(3) The absence of Advanced Scripting is unnoticeable in DMO. The advanced step-by-step command within DMO enables you to run other commands during specific steps; this option is not available in DMPE.
(4) In order to streamline the efficacy of DMO, built-in commands for Microsoft Office are absent. That said, should you require voice command functionality in Microsoft Office, the creation of a step-by-step command will satisfy these requirements.
(5) Despite far fewer vocabularies available in DMO, the effect on accuracy is not noticeable. The following vocabularies are available in DMO:
General Medicine
Clinical Administration (a non-medical General Vocabulary)
Cardiology
Emergency
Internal Medicine
Mental Health
Neurology
Orthopedics
Obstetrics and Gynecology
Oncology
Pathology
Pediatrics
Surgery
View a list of Dragon Medical Practice Edition specialty vocabularies.
Does Dragon Medical One Have To Be Installed Even Though It's Cloud-Based?
Yes. DMO is a small application, but does need to be installed on the computer nonetheless.
The Dragon user profile is maintained in the cloud.
Does Dragon Medical One Work on a Mac?
Not directly. DMO is Windows OS only.
That said, if a regular Mac user does have access to a PC, they can install DMO on a PC and remote view into said PC with a Mac and dictate with a SmartPhone (using it as a microphone).
Other alternatives are boot camp or parallels on the Mac to fashion a PC operating system – but they would need to have at least 8 GB of RAM allocated to this partition.
How do I try Dragon Medical One in Canada?
Receive a free trial of Dragon Medical One. Phone us (1-604-264-9109 ext. 102) or book online.
When booking the appointment, choose as follows:
Category — Pre-Sales Consultation
Service — Dragon Medical One Trial | no charge (30 minutes) REMOTE
How do I buy Dragon Medical in Canada?
Contact us and we'll be happy to consult with you on the best product for your needs.