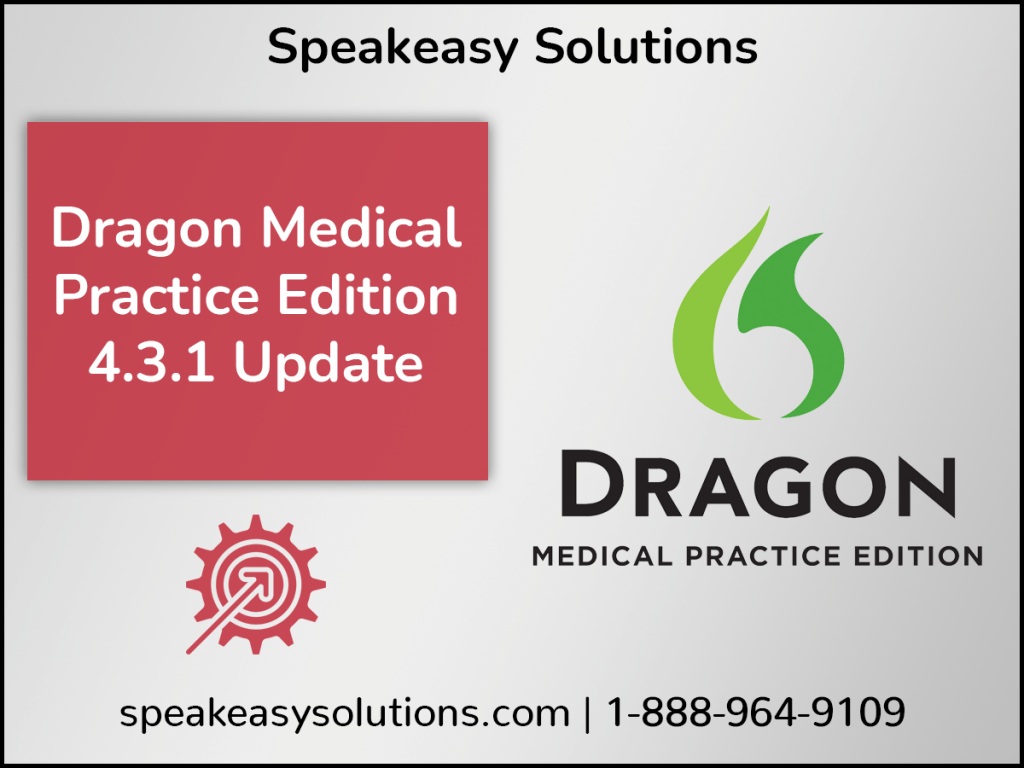 Dragon Medical Practice Edition 4 now has an update available (Build 15.51.350.021). While you do not need to apply the update, it is best practice to do so.
This build is a full release and is used for a new installation or updating an existing installation.
Improvements & Fixes
DMPE would sometimes continue to record and recognize dictation although the microphone was stopped. This has been fixed.
When running the Upgrade User Profiles wizard, the information in the Profile Upgrade details is now correct.
Custom desktop shortcuts now launch file.
Misleading add-on notification for non supported browser (Microsoft Edge). This has been corrected.
DMPE 4 Download Instructions & Guidance
If you are a client of Speakeasy Solutions, please contact us and we will send you the download credentials as well as our download guide.
DMPE 4 Update (4.3.1) Known Issues
Summary
Description
No messages are displayed when clicking the "Check for updates" link from the Help menu
When you check for updates and there are no updates available, DMPE 4.3.1 will not display any messages.
The Dragon web extension dialog pops up even after extension is installed in the browser.
The Dragon web extension dialog can re-display every time you start your browser.

This problem is seen when you have not set a default URL in your browser. Setting a default URL to load when you start the browser stops this problem. For example, to set a default URL in Chrome:

Click the Chrome menu (the three dots next to left of the address bar) and select Settings.

Go to On Startup and select Open a specific page or set of pages to add the default URL to load each time you start Chrome.
You cannot import a user profile with the same name as your open user profile.
If your currently open profile is the same name as the profile you are trying to import, a "please wait" message will quickly flash and nothing else will happen. Dragon cannot finish the import and no profile appears in the display.
The Learn from Specific Documents tool does not work with GoogleDocs
If you try to run the Learn from Specific Documents Tool (Tools>Vocabulary Center>Learn From Specific Documents) with Google Doc, Dragon will ask for Google Docs credentials but will not be able to login to Google Docs to run the tool.
Slight delays after copying and pasting large documents
Pasting documents of 40+ pages into Gmail may take up to 15 seconds before the microphone can be turned on and you can dictate. Dragon is not hanging; there is simply a delay.
Windows "X" (or "Close") button flickers in applications during dictation
When you dictate in DragonPad, Notepad, or Microsoft Word, the "X" (or "Close") button may flicker.
DragonBar not restored from Tray mode
The DragonBar does not get restored from Tray mode for some users when Dragon is installed with the Start Dragon minimized in the tray option as the default.

Workaround: Close and relaunch Dragon and Dragon will be correctly in Tray mode and the DragonBar can be restored.
Error message indicating user profile cannot be closed because applications are using it occurs
Having multiple unsaved documents open while trying to shut down Dragon may trigger this message. Ensure that all documents are properly saved and closed prior to shutting down Dragon.