For the past two weeks Olympus Dictation App and Olympus Dictation Portal users have encountered problems with dictation transfers via their smart phones. Speakeasy Solutions has been in contact with Olympus continually to obtain further information. Today we received the following notification:
Notice from Olympus
Olympus regrets to inform you that all services for the Olympus Dictation App and Olympus Dictation Portal (ODP) are now suspended effective immediately and until Sunday, June 7th for maintenance purposes.
A maintenance process had been conducted in the background this week to clear unnecessary data accumulated on the server. This however, caused a large number of error messages to be sent out to users, resulting in the server becoming unstable. According to the latest R&D investigation, there may have been a chance that dictations could become lost. Therefore, we have decided to suspend the service in order to protect the dictations.
The root cause of the issue has been identified and we are implementing measures to prevent further problems. Maintenance will be conducted in parallel to recover the stability of the service and we expect this to be completed by Sunday at the latest.
For any dictations recently sent, we advise users to keep the dictation on their devices until the service resumes, to ensure that the user's dictations are not lost. Once the service resumes, dictations can be resent to the recipients.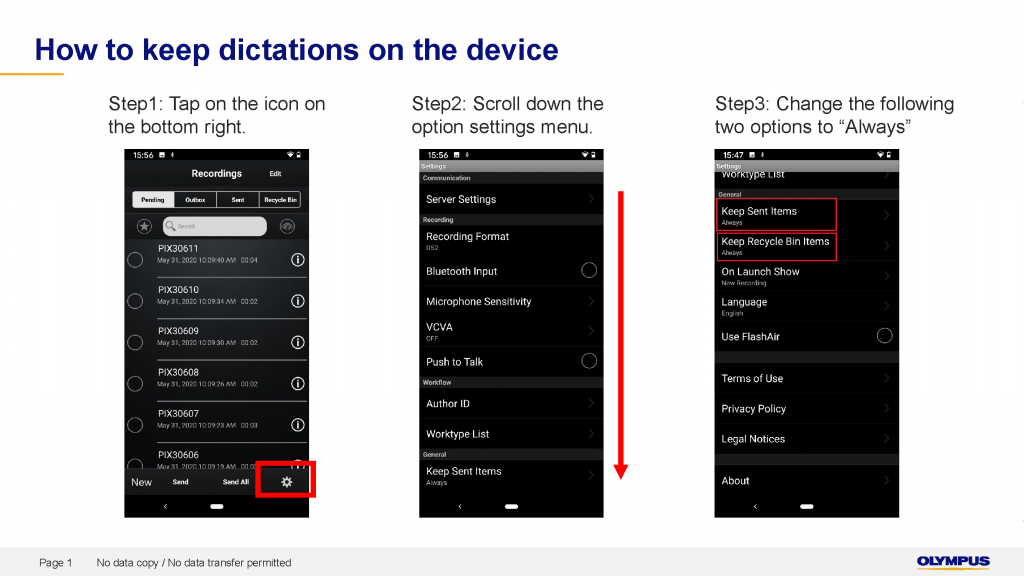 Olympus will provide a further update when the system resumes on Sunday.
We appreciate the patience shown by all our customers and once again apologise for any inconvenience caused by this service outage.
I understand this will place you and your business in even a more challenging situation. Please reach out directly if you have questions or needs.
Moving Forward
It is our hope that Olympus does indeed rectify this situation and measures take place to prevent such an event from happening again.
That said, Speakeasy Solutions would like to outline the following:
Philips vs Olympus Dictation Apps
Philips SpeechLive allows for the use of Olympus digital dictation equipment such as the DS-9000 and DS-9500.
Philips SpeechLive's dictation files remain in Canada on Canadian servers (Olympus dictation files are sent outside of Canada).
Please contact us if you are interested in switching to Philips SpeechLive or if you have further concerns regarding the Olympus Dictation App.
We most sincerely apologize for this decline in service on the part of Olympus.