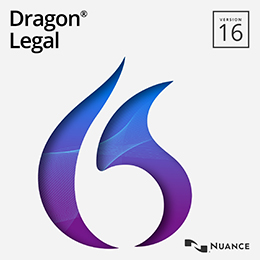 Product Notes
Dragon is a Windows OS PC product ONLY.
Dragon is licensed per user/individual (not per computer). This software may be installed on up to 2 computers per user.
This product does not include a microphone. Should you require a microphone, view our selection.
Product Details
Speakeasy Solutions does not recommend the Dragon Legal products; instead, purchase Dragon® Professional 16.
The Legal editions of Dragon provide an American legal vocabulary. As such, its usefulness for Canadian lawyers may be diminished. Moreover, the Legal and General Vocabularies contain American spelling, and not Canadian (which are now found in the Professional editions).
Nearly all of Speakeasy Solutions' legal practitioners use Dragon Professional rather than Dragon Legal.
However, for those who practice cross border law, or those who are interested, review the information below regarding the Dragon Legal editions.
Product Sales Information 
PC Specifications
For the best success, ensure your PC meets our specifications.
Product & Service Options
Speakeasy Solutions provides as much or as little assistance as you desire.
You may know precisely what you wish, and we provide the items you specifically request, delivering Canada-wide.
You may wish some assistance with setting up and learning your Dragon solution, or perhaps you do not have the time to spend configuring Dragon and learning how Dragon functions most advantageously with your applications and workflow, or perhaps you wish complete peace of mind knowing that you have reliable and knowledgeable support.
Regardless of your goals, Speakeasy Solutions has a Dragon solution for you.
If you feel that you might benefit from a discussion regarding various options (microphones, digital voice recorders, installation, training & support services), a pre-sales consultation by way of a telephone call is quite helpful.
For more information, review our three Dragon solutions.
Additional information
| | |
| --- | --- |
| Media | Digital Download, USB Memory Stick |