Dragon Professional for PC
Use the world's best-selling speech recognition software to create letters, reports, and email faster than ever before.
Dragon NaturallySpeaking Professional 12 Overview
Dragon NaturallySpeaking 12 Professional is enterprise-ready speech recognition software that ignites new levels of productivity and profitability by enabling busy professionals to interact with their PCs entirely by voice.
Dictate documents, reports and presentations, send email, search the Web, and navigate and command the PC — three times faster than typing — with up to 99% accuracy.
Customize the vocabulary to reflect your organization's unique terminology and workflow.
Create custom voice commands to automate or simplify compliance with organization-specific processes and standards.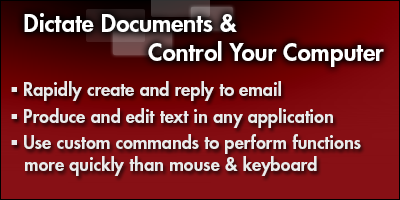 Key Benefits
IGNITE PRODUCTIVITY WITH Fast, accurate dictation
Dragon NaturallySpeaking 12 Professional is the ideal solution for busy corporate professionals who want to work faster and smarter.
Dictate naturally to create documents, spreadsheets, presentations, email and more — three times faster than typing — with up to 99% recognition accuracy. Import and share custom word lists with unique names, acronyms and terminology tailored to your business or industry.
Intelligent reminders prompt you to initiate analysis of documents and emails so Dragon adapts to the words and phrases you are likely to use. Dragon can even adapt its format rules by detecting your format corrections – abbreviations, numbers, and more — so your dictated text looks the way you want it to every time.
The more you use Dragon 12, the better it transcribes your speech. Dragon even takes advantage of the latest PC multi-core processors to further boost speech recognition performance.
IGNITE PROFICIENCY AND EASE OF USE
The Dragon Help system contains a Tip of the Day window and other easy ways for you to quickly learn more. The Dragon Sidebar puts important voice commands and tips in one convenient desktop location. And on-screen help means information is always available when you need it.
IGNITE CONVENIENCE BY using business-critical Applications
You can use Dragon 12 Professional with many of the Windows applications you use every day. Dictate, edit and format text in Microsoft® Word, OpenOffice™ Writer, or Corel® WordPerfect®, work with spreadsheets in Microsoft Excel®, create presentations in Microsoft PowerPoint®, create email, tasks and meetings in Microsoft Outlook®, search the Web using Internet Explorer® or Mozilla® Firefox® or Google Chrome™, post to Facebook or Twitter, and more — all by voice.
Dragon 12 even enhances the experience of using your voice with two of the most popular web-based email applications — Gmail and Hotmail — offering Full Text Control and commands for the most frequent actions in Internet Explorer 9, Mozilla Firefox 10 or higher, and Google Chrome 16 or higher.
IGNITE CONTROL with voice shortcuts and custom commands
Use simple voice commands to create files, send email, schedule tasks and meetings, open and close applications, save and convert documents, and search the Web or your computer with remarkable speed and ease.
Dragon Voice Shortcuts™ let you obtain the equivalent of multiple keystrokes and mouse clicks with a single voice command that can be spoken at any time—no matter what is active on your screen. For example, say: "Send email to John Smith and Raphael Sanchez" or "Search maps for financial advisors in Vancouver, British Columbia" and Dragon makes it happen. You can also say "open top site for Speakeasy Solutions" and Dragon automatically opens the top-ranked page for these keywords.
IGNITE MOBILITY AND FLEXIBILITY
For advanced recording functionality, dictate into a Speakeasy Solutions recommended digital voice recorder, from anywhere, at any time, and Dragon will automatically transcribe the text.
Use a wireless headset for superior comfort and mobility; wideband Bluetooth support delivers optimal recognition performance.
IGNITE Better Business with an enterprise-ready solution
Dragon 12 Professional provides security features, configuration options and administrative tools that make it easy to manage voice profiles, custom vocabularies and commands, feature access, and multiple installations over a network.
Dragon 12 Professional can even let administrators obtain a recognition log file for each end-user, to easily and quickly gather rich, objective usage information which can be used to give users targeted advice and measure return on investment.
IGNITE ACCESSIBILITY FOR ALL EMPLOYEES
Dragon 12 Professional is Section 508 certified, enabling you to meet government-mandated accessibility requirements for workers with disabilities. It also helps prevent fatigue and repetitive stress injuries and keeps more employees on the job by offering a comfortable, ergonomic option to the keyboard and mouse.

Centrally manage voice profiles, custom vocabulary, feature access, and multiple installations over a network. Robust security features and administrative tools make Dragon enterprise ready.
Product Downloads
Why Speakeasy Solutions Inc. Is Right for You
Service & training as exceptional as the software we provide!
Superior Service
At Speakeasy Solutions Inc. it's all about the customer experience. With more than 12 years of experience in speech recognition support, we are committed to user adoption. We match Dragon to your workflow, enabling you to work efficiently with the programs that you use every day.
Training
Speakeasy Solutions Inc. is an authorized Dragon trainer. We offer training materials designed for the efficient use of Dragon no one else can – like our custom Dragon Training Workbook, an invaluable tool for quick tips, shortcuts and top commands.
An Adaptable Solution
With our exceptional service and support after the sale, we make sure Dragon adapts to your needs. Our expert staff customizes your Dragon implementation to be the perfect solution for your speech recognition requirements.
Ready-to-use Voice Commands
The implementation of Dragon is enhanced by the creation of custom voice commands. Custom commands allow you to navigate your computer and most used applications faster than you could manually. When you purchase a Complete Dragon Solution Package from Speakeasy Solutions Inc. you can take advantage of a series of voice commands that makes Dragon easier and more efficient.
Speech Recognition Vocabulary
Speakeasy Solutions Inc. tailors your vocabulary specifically to your writing style by utilizing several of the accuracy improvement features within Dragon. This is useful for individuals who do not have time to perform these tasks themselves and for installations involving multiple users.
Custom Province-Specific Word List & Canadian Vocabulary
Speakeasy Solutions Inc. provides a Province-Specific focused word list incorporating regions and medical facilities commonly used so you do not have to add these yourself. The Speakeasy Solutions Inc. Canadian vocabulary provides spelling of the most commonly used American words without training or extra effort.
Technical Support
With a complete Dragon solution package, Speakeasy Solutions Inc. extends complimentary telephone technical support after installation and setup, ensuring you will have peace of mind.
Quick Dragon How-to Answers
Once you have finished training with Speakeasy Solutions Inc., you may find yourself stuck or needing a quick answer to a question regarding Dragon use. Email Speakeasy Solutions Inc. with your question and you will receive an answer. This complimentary service does not include material not covered during the original training sessions and a follow-up training session is suggested for queries that extend beyond a quick how-to response.
Customize Dragon With Our Digital Voice Recorders and Microphones
We help you install and configure your choice of input devices (microphones and/or digital recorders) to maximize the benefits of Dragon.