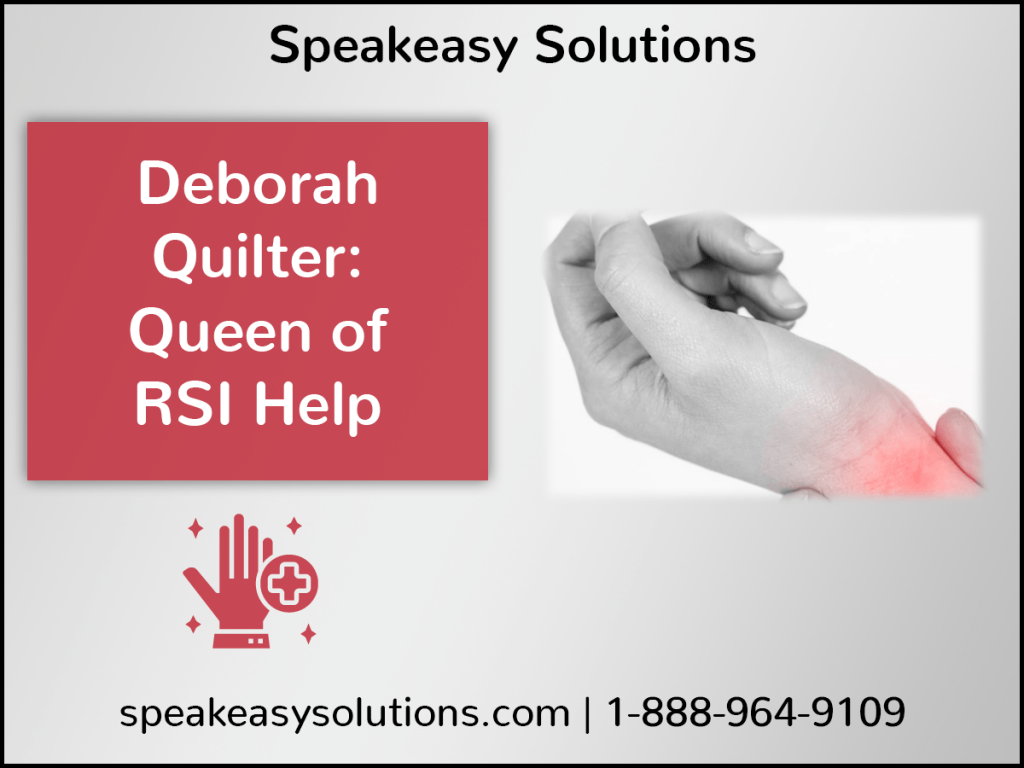 23 years ago when I (Alexandria Carstens) was stricken with severe computer related repetitive stress injury, there was very little information about this debilitating ailment, and I hazard to say that most medical professionals did not have the appropriate knowledge to treat RSI at that time.
Deborah Quilter's first book regarding computer related RSI was a life-saver for me. The knowledge contained therein was a jumping point for my personal research into all forms of RSI within medical journals. I suddenly felt I wasn't alone in my suffering. And, of course, there was such great information within Deborah's book on what to do and not do on the physical front in order to heal. Deborah was the voice of reason and I have treasured her sage advice since the late 1990s.
Fast forward to end of 2020 when I received an email from Deborah Quilter. I just stared at it for a long time, giddy with excitement and at first not knowing how to respond without sounding like some love-struck fan. In the end, ill caring about appearances, I responded from the heart.
If you or a loved one has RSI, I urge you to visit Deborah's site and spread this information. Deborah also offers consultation to assist those with RSI.
Our initial exchange is below, copied from her newsletter, DQ News. Additional links follow. Stay tuned for more from Deborah.
Dear Friends,
Happy Holidays!
As I was planning the YouTube lineup, I was searching for a company that coaches people to use Dragon speech recognition software. I found a very good video on using Dragon, and asked the creator, Alexandria Carstens, if she would appear on RSI Help YouTube. I received a reply almost immediately, and much to my astonishment, Alexandria knew me and had kind words for my book (though I'm not sure I rank as a superstar). Here's what she wrote:
Hi Deborah,
I know exactly who you are! You helped save my life (literally) over 20 years ago. You had one of the very few books on computer related repetitive stress injury in those days. Thanks to you I was able to begin some earnest research from medical journals and take my life back. Not only that, but I started Speakeasy Solutions 20 years ago so that I could help others. Receiving an email from you is rather like receiving an email from a superstar! Well, you are!
Sincerely,
Alexandria Carstens
We will be featuring an interview with Alexandria next month. So stay tuned.
Links for Deborah Quilter