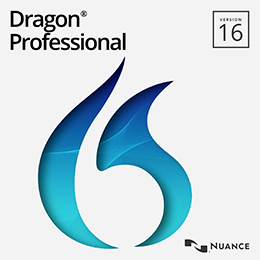 Please Read This Important Notation
The list purchase price is $873.75 (the regular Dragon Professional 16 price) for administrative reasons ONLY. Please complete this purchase with the following notes based on how you provide payment:
Credit Card
This purchase ($873.75) is a pre-authorization only and your card is not charged until Speakeasy Solutions verifies your order (within 1 business day). Once verified, the discussed and arranged purchase amount is captured and your card is charged.
INTERAC e-Transfer
After purchase with this option, Speakeasy Solutions verifies the discussed and arranged purchase amount, sending you an email with this purchase amount (including applicable taxes) and instructions for sending payment.
Dragon® Professional 16 (Assistive)
Approved Assistive Technology Clients ONLY
Questions
Contact us (1-888-964-9109) if you have any questions at any time or if you wish to place an order by phone.
Product Notes
Dragon is a Windows OS PC product ONLY.
Dragon is licensed per user/individual (not per computer). This software may be installed on up to 2 computers per user.
This product does not include a microphone. Should you require a microphone, view our selection.
Product Details
Let's take the stress out of self-expression.
For students with accessibility needs or those that simply struggle with writing, Dragon brings the freedom to speak ideas onto the page without worrying about spelling or the mechanics of typing. The result? Faster, more natural composition that makes ideation effortless.
Make words work for you
Dragon transcribes your words into text and reads them back to you so you can edit until you are satisfied. Use Dragon to read aloud anything from homework instructions to incoming email.
Let Dragon do the typing
For those who find typing physically or cognitively taxing, Dragon provides an easier, more intuitive way to write—and research—simply by speaking. It keeps pace with your train of thought, transcribing up to 160 words a minute.
Accessibility features support full command and control
For users with accessibility requirements, Dragon supports verbal commands to navigate documents. Use your voice as a mouse alternative, speaking to browse and search the web or to perform simple calculations.
Adapts to You and Your Needs
Dragon Professional adapts to your voice or environmental variations — even while you're dictating — to accelerate documentation turnaround for improved service. Of particular note:
Create custom words and phrases.
Insert standardized content quickly by voice using auto-texts commands.
Short-cut repetitive tasks by creating custom voice commands.
Work within popular business applications — often with Full Text Control for fully voice-driven editing and command capabilities.
Product Sales Information
Specifics
PC Specifications
For the best success, ensure your PC meets our specifications.
Optimally and productively using Dragon...
Windows 10 or 11 Pro 64-bit OS
Intel i7 quad core CPU (i9 for really future proofing)
16+ GB DDR4 2400 RAM
Solid State Drive
More information can be found here.