Dragon® Medical Practice Edition 4 English for PC
— discontinued as of March 31, 2021 (read more) —
Out-Of-The-Box Affordability. Out-Of-The-Ordinary Performance
Quickly and easily create high-quality clinical documentation at the point of care with Dragon Medical Practice Edition 4 and your chosen EMR (EMRs in Canada have varying degrees of compatibility — contact us to discuss).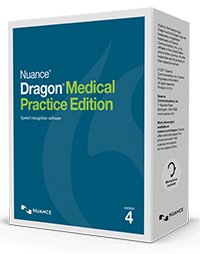 Cutting-Edge Technology Brings Efficiency to the Canadian Clinic Environment
Powered by a next generation speech engine, Nuance® Dragon® Medical Practice Edition 4 achieves 99% accuracy out of the box without voice profile training. Dragon Medical Practice Edition is a locally-installed solution designed and priced especially for smaller practices that want to transform the documentation process.Dragon Medical Practice Edition is compatible with most Canadian EMRs.
Superior Speech Recognition, Amplified for Medical Use
Distinct from nonmedical speech recognition, Dragon Medical Practice Edition combines 90 medical specialty and subspecialty vocabularies with acoustic models based on the unique way physicians speak—audio, syntax, style and structure—resulting in remarkable accuracy. Advanced Deep Learning technology constantly learns and adapts to voice and environmental variations—even during dictation—to refine performance. Dictate for real-time speech to text or transcribe audio recordings to create clinical documentation.

Astonishing Accuracy
Achieve incredible transcription accuracy.
Living in Canada as we do, we are very multi-national. DMPE 4 meets the demands of medical practitioners with accents from all over the world.

Compatible with Google Chrome
Use DMPE 4 in web-based EMRs using Google Chrome.
Edit, correct, and use commands with text fields — all by voice. Complete chart notes faster than ever before.

Truly Multi-task with the Dictation Box
Review labs and past notes while simultaneously dictating.
Achieve more accurate and complete documentation as you navigate other computer screens as you narrate.
Benefits
Boost documentation efficiency for more time with patients. Create text up to 5x faster than typing, improving EMR usability.
Use voice to navigate, dictate and edit content inside EMR fields for increased productivity.
More complete and accurate documentation provides richer patient details to the care team.
Save money, and speed up turnaround time.
Key Features 
Medical vocabularies and acoustic models tuned for the way clinicians speak.
Regional accent support.
Simplified interaction with EMRs eliminates navigation back to EMR screens with a hidden dictation box.
Smart configuration automatically detects hardware resources and determines the best use of infrastructure for optimal performance.
No internet connection required ensuring uninterrupted use.

Purchase Dragon® Medical Practice Edition
Dragon® Medical Practice Edition Software
Speakeasy Solutions Services (installation and/or training)
A Complete Solution includes Dragon Installation with Support (installation including 2 years of remote technical support) and Complete Training with Training Materials (3 two-hour training sessions).
An À La Carte Solution optionally includes Hourly Installation and/or a Single Training Session.
Learn more about Speakeasy Solutions' purchasing options for Dragon.
Popular Microphones for Medical Practitioners
If none of the microphones listed are of interest, view all of our available microphones.
Product Sales Information 
Informational News 
The following web sites and web pages offer additional articles related to Dragon Medical Practice Edition in Canada.
Speakeasy Solutions Blog Posts 
The following blog posts outline information pertaining to Dragon Medical Practice Edition.
Receive Training
Whether you are new to Dragon Medical or a long-time user, we help you leverage features within Dragon designed to increase your efficiency.
Learn about Other Dragon Medical Products
Product Support 
What kind of support does Speakeasy Solutions provide?
Technical support involves problems with hardware (microphones and digital dictation equipment) and software (Dragon and hardware with applications). This includes manufacturing defects, complications with other equipment or software, inoperability, and quite simply a product not functioning as it should.
Training support involves how-to accomplish a task with hardware and software. This includes resolving Dragon recognition errors, maintenance, creating commands, performing a specific function, and so on.
The section below is specific to technical support. Training support is conducted during a training session, booked online, or contacting us directly.

Free vs Paid: You may be eligible for free support from Speakeasy Solutions.
Quick Tips: A brief list of possible remedies for basic issues.
Blog Articles: Links to blog articles contending with various support challenges.
Did you purchase Dragon Medical from Speakeasy Solutions?
NO — If the information on our website does not assist you, consider contracting Speakeasy Solutions for a remote technical support session.
YES — Please keep reading…
Did Speakeasy Solutions install Dragon Medical?
NO — If the information on our website does not assist you, contact us with your Dragon issue and if it's a "quick fix", we're happy to help; if not a "quick fix", consider contracting Speakeasy Solutions for a remote technical support session.
YES — Please keep reading…
Was 2 years of complimentary technical support included with the installation (check your invoice or contact us to verify)?
NO — If the information on our website does not assist you, contact us with your Dragon issue and if it's a "quick fix", we're happy to help; if not a "quick fix", consider contracting Speakeasy Solutions for a remote technical support session.
YES — Review the information provided here, or contact us for complimentary technical support!
Depending on the symptoms, consider any of the following possible remedies as is relevant.
Computer
Shut down all applications and restart the computer.
Check for Windows OS and Microsoft Office updates. If any, apply, and restart computer.
Check for browser and antivirus updates; apply if needed.
Check for Dragon updates; apply if available.
Is your computer set to sleep after a period of time? If so, set it to never sleep.
Temporarily disable your antivirus to rule out conflicts.
Audio
Ensure your computer recognizes your microphone.
Ensure your microphone is fully connected and plugged into the computer.
Turn off your computer, plug your microphone into a different USB port, and turn on computer.
if your microphone has software, such as the Philips SpeechMike, check for and apply any software and firmware updates.
With your Dragon User Profile open, choose your desired microphone and then run a microphone check.
Dragon
Verify your Dragon User Profile is open, and if not, open it.
Create a temporary new Dragon User Profile to rule out Dragon User Profile corruption.
Export a copy of your Dragon User Profile and then restore from a backup.
DO NOT!
Depending on the issues of concern, one (or more) of the following blog articles may provide a solution.
Computer
Audio
Dragon